Kaniwa Six Bean Medley Salad
Kaniwa Six Bean Medley Salad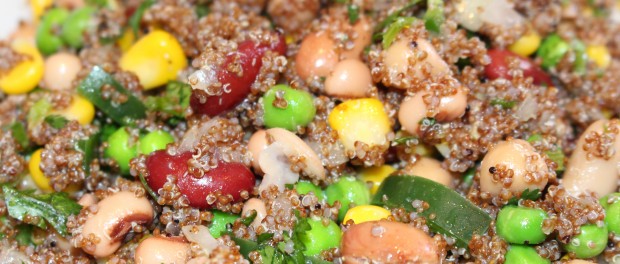 Kaniwa Six Bean Medley Salad
Kaniwa Six Bean Medley Salad - Enjoy this delicious salad made with Kaniwa a.k.a. baby Quinoa. Kaniwa has a higher protein content than Quinoa perfect for a vegan/vegetarian diet.
Author:
Healthy Nutritious
Recipe type:
Vegan, Vegetarian
Ingredients
Salad
1½ cups cooked Kaniwa
1 19oz can of six bean medley ( red or white bean alone will work well)
1 cup corn kernels (cooked)
1 cup of peas (cooked)
¼ cup spanish onion minced
1 garlic clove minced
2 jalapeno peppers chopped
¼ cup chopped cilantro

Dressing:
¼ extra virgin olive oil
1½ tbs lemon juice ( about ½ lemon)
¼ tsp cumin
salt and pepper to taste
Instructions
Cooking Kaniwa is the same process as cooking quinoa, 1 cup kaniwa 2 cups of water. Bring to boil then simmer for 15mins uncovered
If using frozen peas and corn then boil two cups of water and add peas and corn to pot and cook for a couple of minutes drain water and set aside.
In a large bowl combine Kaniwa, beans, corn, peas, garlic, onions, jalapenos, cilantro and mix well.
In another bowl combine oil, lemon, cumin powder, salt and pepper and whisk well.
Add dressing to salad mix well and enjoy!!