Oatmeal Honey Facial Scrub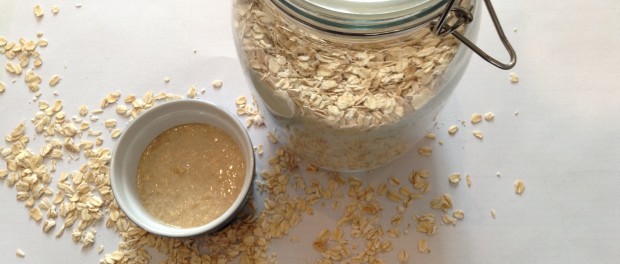 Learn how to make an Oatmeal Honey Facial Scrub with ingredients from your kitchen.  This facial scrub is great for calming the skin especially for people affected by redness and  irritation.  It is gentle on sensitive skin and will leave you looking radiant.
Oatmeal is used in a variety of cosmetics.  Oatmeal contains  anti-inflammatory and antioxidant properties which makes it ideal for sensitive skin. It is also helpful for many skin conditions like rosacea, eczema, sunburns, poison ivy to name a few.
Honey is great for your skin its antibacterial and probiotic properties helps clean your skin gently without stripping of natural oils.  Honey moisturizes and clarifies your skin, it is very effective for people with skin conditions and sensitive skin.
Milk is full of vitamins and nutrients, milk contains lactic acid and alpha hydroxy acid with helps in cell renewal.  Lactic acid helps by  hydrating the skin and increase water retention which its great for youthful looking skin as it also shrinks pores.   Milk is also used to reduce skin irritation and shrinking pores.

Oatmeal Honey Facial Scrub
Oatmeal Honey Facial Scrub - no need to go to the spa you can make this extremely moisturizing facial scrub from ingredients out of your kitchen. It will leave your skin smooth, bright and firm. Great for those dry winter months it will help keep your skin moisturized!!
Author:
Healthy Nutritious
Ingredients
1 cup of rolled oats
1 tbs honey
2 tbs of milk
Instructions
Place rolled oats in a blender and grind until it gets a coarse consistency
In a small bawl place ¼ of a cup of grind coarse oats, honey and milk and mix well until it forms a paste like consistency ad more milk if needed.
Wash face and apply facial scrub over damp face and leave for 15-20 min
Wash face with lukewarm water massaging gently in circular motion
Dry and moisturize face
Notes
Alternative to milk - Yogurt it will work great as well but you might find the mixture a little thicker.

Hope you enjoy this recipe!!
Give it a try.  The results will amaze you.